Trevor Stockinger Discusses New Antitrust Boutique
Over the past two years, David Kesselman, Amy Brantly and Trevor Stockinger collaborated to expand the antitrust group at Goldberg, Lowenstein & Weatherwax.
It functioned as a firm-within-a-firm, so establishing their own practice seemed the next logical step: Kesselman, Brantly & Stockinger started this month, specializing in antitrust and unfair competition disputes, antitrust consulting and business and employment litigation.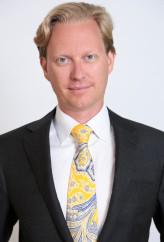 Trevor Stockinger
"We just got to a point where wanted to try this on our own," Stockinger said in a telephone interview. Perry Goldberg, Nathan Lowenstein and Kenneth Weatherwax, his former firm's name partners, "were very understanding of that," he said, "and it's been a very amicable split."
KBS hopes to build a client base that includes corporations as well as small businesses and expects to handle both plaintiff and defense cases, Stockinger said.
"We're one of the very few boutique firms with a practice in unfair competition issues, antitrust issues and business torts," he said. "When corporations start looking, whether they get sued for antitrust violations or whether they think they've been wronged and want to file a suit, most of the time they need to go to very big firms that charge higher rates, and we'd like to provide the market another option."
Along with the name partners, Majed Dakak, who specialized in antitrust and complex business litigation at Blecher & Collins in Los Angeles, is joining KBS as a founding partner. Formerly of Goldberg Lowenstein is coming on board as an associate, and Aimee Dudowitz, an associate professor at Loyola Law School, will be Of Counsel.
"We think we put together a good team," Stockinger said.
Kesselman's previous career includes serving as a partner in the antitrust and litigation boutique Blecher & Collins, and he began his career at Jones Day after earning a juris doctorate from the University of California-Davis School of Law. His expertise ranges from antitrust issues to business tort, copyright and wrongful termination cases, and he has taught on an adjunct basis at Loyola Law School.
Brantly was formerly Of Counsel at Susman Godfrey LLP, where she worked on some of the biggest antitrust cases in the country and class action suits including unintended acceleration claims against Toyota Motor Corp. She earned her law degree at Fordham University School of Law and was named one of the "Top Women Attorneys of Southern California" in 2013.
Stockinger has significant experience in complex business litigation, with a focus on antitrust and unfair competition claims. He previously practiced for nearly a decade at Irell & Manella LLP and clerked for 5th Circuit Court of Appeals Judge Rhesa H. Barksdale. He earned his JD at Loyola Law School in Los Angeles.
With an undergraduate degree in East Asian Studies from Washington & Lee University and a working knowledge of Mandarin, Stockinger is particularly intrigued by cases in which that background is advantageous.
"Litigation these days tends to be more international and cases where we have parties that are in China, Taiwan or Singapore, I tend to be the go-to- guy to take their depositions," he said. "Now I may not be taking those depositions in Chinese, but certainly some of those skills help."